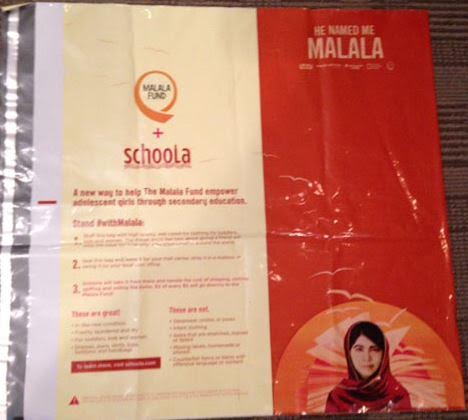 While versatile in use, we are especially thrilled when our products work towards a great cause. Our recent success story includes how custom printed mailing bags benefited our client Schoola in conjunction with the release of the new movie, He Named Me Malala.
Schoola is a unique organization that turns quality clothing into school funding. They have teamed up with the Malala Fund to empower girls in the most vulnerable communities around the world, through education.  With the release of He Named Me Malala this past week, Schoola's goal was to create a 4 color process printed mailing bag to be handed out to each movie-goer. The promotional plastic bag had to include clear instructions for the movie-goer to take the mailing bag home, fill it with clothes donations, and then mail the postage-paid bag back to Schoola. When the mailing bag was received, School would then make a significant donation to the Malala Fund.
The challenge for Plus Packaging was to make timely deliveries of the large 24 x 24 mailing bags, as the custom bags were to feature peel/seal tape closures with very detailed printing. Most importantly, we had to ensure the bag "matched the message" of the organization. Our team pulled together and delivered the perfect bags, on-time for the cause.
Our mission for 37+ years has been to be the "go to company" for any project, big or small, while specializing in printed mailing bags, printed plastic bags, and printed packaging tape. If you're interested in learning more about how our products can benefit your brand, use our logo viewer or contact us for more information.