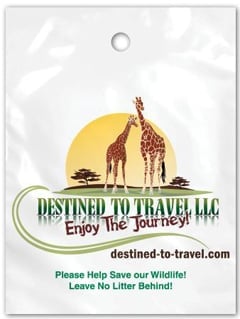 Our printed plastic bags can be used to package anything, anywhere—even trash in the African bush! One of our most recent clients, Destined To Travel LLC, needed help doing just that, and that is why they are the focus of our latest success story.
Destined To Travel LLC guides African Safari adventures for tourists around the world. Their business is successful, but they have always had a problem with trash disposal. There are no trash cans anywhere in the Serengeti or in any of the parks, and the folks at Destined To Travel are environmentally conscious. They want to keep the Safari clean, but they don't want to carry garbage cans on their trucks or ask customers to bring their own.
Knowing this, we designed a neat, cleanly designed printed plastic bag sturdy enough to contain all forms of garbage. Now, each customer is given a bag at the beginning of every tour for garbage disposal. Thus far, Destined To Travel LLC has been thrilled with our bags. Their needs have been met, and they just placed their second order with us. If you're interested in learning about how our printed plastic bags can benefit your brand, use our logo viewer or contact us for more information.