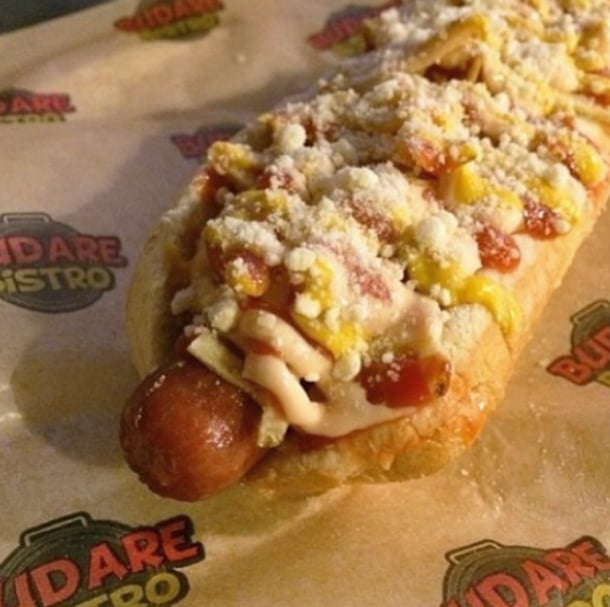 When it comes to indulging, we eat with our eyes first! Throughout their five years of experience in serving up traditional Venezuelan food, Budare Bistro takes this fact very seriously. With an impressive menu including mouthwatering Cachapas, Arepas, and their own unique Tequeños, they knew they needed food safe wax tissue paper that would accentuate the appetizing appearance of their menu items.
Here's a closer look at how Plus Packaging helped this gourmet Miami bistro showcase their traditional Venezuelan cuisine in an eye-grabbing and food-safe way.
A hip front-runner of Miami's gastronomic community, Budare Bistro required appealing food safe packaging that wouldn't take away from the tasty appearance of their freshly prepared food. Their food safe wax tissue paper, created by Plus Packaging, showcases the logo of this highly-acclaimed restaurant while keeping patrons mess-free, despite piling on the tasty fillings! Serving up everything from classic hot dogs to traditional Venezuelan empanadas, there's no denying that their food looks extra-appetizing when conveniently wrapped in their own custom printed tissue paper. And when you've got a loyal customer base hailing from Venezuela and Colombia, you better be sure your food stands out!
Keep your patrons coming back for more with a little help from Plus Packaging. Together, we'll craft everything your business may need, from custom printed food safe wax tissue paper to printed paper bags, and beyond.
Learn more about our flex packaging and other custom packaging supplies by contacting us. You may also utilize our handy logo viewer to see just what we're capable of! 
Plus Packaging's personalized approach means our team is with you through the entire process, from product selection, to design, to delivery. Whether you need custom poly mailer bags, printed tissue paper, branded packing tape — we'll help you make sure it's the right size with the right design, so that your company has access to the most cost-efficient and impactful custom packaging solutions. We even offer eco-friendly packaging options!
Get to know our complete selection of custom-branded packaging products. Many of our solutions include an extensive range of customization options, so please feel free to talk to our team. Contact our in-house design and shipping team to learn more.