Food packaging must protect the food inside and keep it fresh, as well as hold up under both shipping and customer handling. Even more importantly, though, it must showcase the brand and the food inside. Above all, it must be crave-worthy.
With clever design, the right food packaging can create consumer desire. These seven packaging ideas for food have all the right ingredients for marketing success.
1. Lindt Chocolate Santa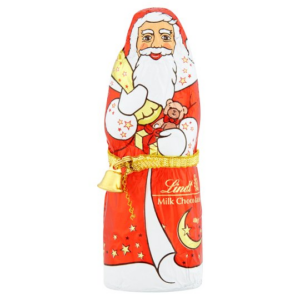 Image courtesy of "Tesco"
Shiny foil packaging evokes the holidays—but Lindt elevates that another notch altogether by channeling the spirit of the season and putting its holiday treat inside an image of the jolly old elf. Tied around his waist hangs a bell ornament that customers can use to decorate their own trees after they devour the treat. Lindt tastefully incorporates its classic logo into the design, written in gold to contrast with Santa's scarlet robe. Who wouldn't want to come down the stairs to find this chocolate treat in their stocking?
2. Qualitalia Pasta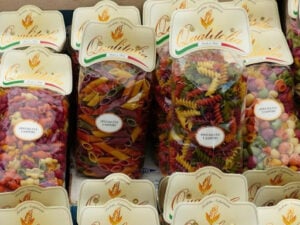 From the see-through packages that showcase the naturally colored noodles inside to the colors of the Italian flag on the logo, this package screams "Buy me!" to pasta lovers. The flag's colors repeat the colors of the tasty noodles inside, while stickers in Italian attest to its authenticity. At the very top of the package, just above the brand's logo, sits a picture of a golden sheaf of wheat. A magnum opus of both branding and crave-worthy design, this one is the perfect blend of product and promotion.
3. Arcor Strawberry Buds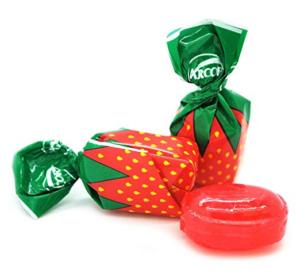 Image courtesy of "Amazon"
Old-fashioned hard candy can sometimes be a hard sell these days. But these strawberry-flavored drops, filled with juicy strawberry fruit pulp, make customers drool with these strawberry-like wrappers. Just seeing one of these pretty little strawberry wrappers makes a browser think of the luscious fruit taste inside. They're the perfect packaging for these sweet strawberry treats.
4. ReaLemon / Jif Lemon Juice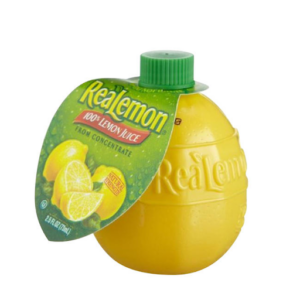 Image courtesy of "Restaurant Supply Group"
Back in the 1930s, an enterprising Irving Swartzburg noticed that squeezing lemons could get downright messy with that era's hand-squeezing technology, shown above. So, he started selling bottled lemon juice to grateful cooks.
A couple of decades later, design-forward British company Jif began selling lemon juice in lemon-shaped bottles. ReaLemon followed suit. Though a lawsuit arose in the UK, ReaLemon continued to produce the lemon-shaped juice bottles in the US. With a shape and texture just like a real lemon, ReaLemon's pretty bottles drive the brand concept home—it's the real deal. It's just in a much more convenient form.
5. Hershey Bars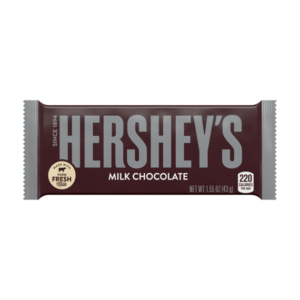 Image courtesy of "Hershey's"
In a rare honest moment, Mad Men's Don Draper revealed his true opinion of Hershey Bars: they need no advertising. Why would they—with their iconic wrapper that says it all? Done in rich chocolate brown with silver block lettering, the wrapper itself gives customers a foretaste of the treat that awaits.
This branding has been so successful that Hershey's has kept the design constant since 1912. The only changes to the packaging have been internal, such as their recent switch to a single sealed wrapper instead of their traditional glassine inner wrap encased in the familiar brown outer wrap. Branding that says it all in a single glance makes Hershey's one of the finest food packaging home runs ever.
6. Brittle Brothers Brittle
Peanut brittle needs to stay fresh and crunchy. This hermetically sealed package keeps all the freshness
locked inside. At the same time, it gives prospective customers a "glimpse" at what's inside with a realistic-looking image of the product.
Each package displays the brand prominently with a distinctive logo. Since the company's Southern roots are a big part of their image, they've stamped the notation "Made in Nashville" proudly on the front of each package.
The easy-open bag features a zip closure to keep the gourmet brittle fresh. With a hang hole at the top allowing retailers to display the snacks easily, this package is a winner.
7. Jiffy Pop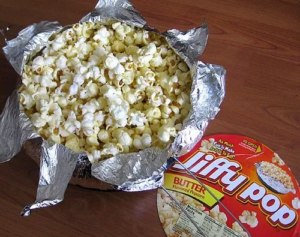 Image courtesy of "Tasty Island"
Who doesn't love a bowl of popcorn while binge-watching their favorite series? Back in the day, binge-watching wasn't a thing, but many people faithfully watched at least one favorite TV program each week. In 1959, Jiffy Pop created a disposable aluminum pan which served as both packaging and pan. Once users removed the paper part, they could place the disposable pan on the stove to cook. A metal wire handle allowed users to remove the pan safely from the heat after the popcorn cooked.
Almost as much fun to watch as an episode of "I Love Lucy," the aluminum foil atop the pan expands as it cooks until it nearly bursts from the expanding kernels. After the hungry cook pierces the foil, the popcorn is ready to eat, right from the pan.
With perfect timing – the popcorn cooks in two to five minutes – faithful TV watchers could make a pan of fresh popcorn during a single commercial break. (Commercial breaks are nearly a thing of the past these days, but "pause" still works!) One of the best packaging ideas for food-grade pouches ever, this tasty treat has made a comeback over the last few years. A whole new generation has rediscovered the fun this product provides, making it a favorite TV time treat once again.
Better Packaging Creates the Crave
These clever flex packaging ideas all have one thing in common: they create a desire for the product inside with a single glance. When innovative designs pair with top-notch branding, you'll have crave-worthy branded food packaging that will have retail customers lining up to buy your products.
To learn more about how resealable packaging bags impact sales in the food industry, contact the food branding design experts at Plus Packaging today.
Plus Packaging Offers Custom Packaging Solutions
Plus Packaging's personalized approach means our team is with you through the entire process, from product selection, to design, to delivery. Whether you need custom poly mailer bags, printed tissue paper, branded packing tape — we'll help you make sure it's the right size with the right design, so that your company has access to the most cost-efficient and impactful custom packaging solutions. We even offer eco-friendly packaging options!
Get to know our complete selection of custom-branded packaging products. Many of our solutions include an extensive range of customization options, so please feel free to talk to our team. Contact our in-house design and shipping team to learn more.