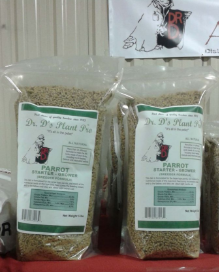 When it comes to food grade pouches—whether for humans or animals—security is crucial. Cali Parrots sought the food-grade stock packaging products of Plus Packaging for a small quantity order of plastic zipper barrier pouches for trade shows and we're thrilled that they were so pleased with the results! Plus Packaging also offers custom food packaging printed with your logo or other marketing elements.
The standup zipper barrier pouches ordered by Cali Parrots were used to display Dr. D's Plant Pro bird seed. Though they opted to adorn them with their own printed labels, the bags from Plus Packaging keep the needs of their clientele in mind, offering a food-safe zipper bag that securely contains the delicate bird seed inside. Important to so many bird owners, these bags stand up and zip securely for no spills and ongoing freshness of the feed inside.
Small Quantity Zip Pouches for Budget-Minded Startups
In addition to custom packaging products, Plus Packaging offers a large selection of stock products to assist in the ongoing operations of businesses big and small. As a startup, Cali Parrot required stock products that would fit into their budget and we were proud to assist. By taking advantage of our selection of small quantity zip bags, Cali Parrots was able to find exactly what it needed to support trade show displays and more.
Learn more about our flex packaging or branded food packaging by contacting Plus Packaging today! You may also use our logo viewer to see the limitless potential of our packaging products.