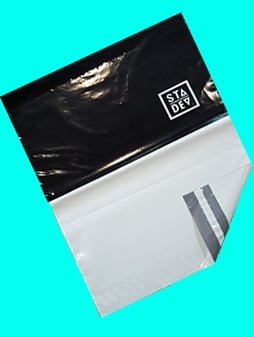 Not even a year old, Standard Deviation is already making a name for themselves, offering U.S. made denim and clothing made from high-quality materials and ethically-sourced products. For this Brooklyn-based menswear brand, built on supplying stylishly contemporary clothing, one thing is certain: the packaging must be just as cool and as the product.
Operating as an online store, shipping and mailing are ultra important to Standard Deviation's success. Whether they are sending a single lightweight t-shirt or a couple pairs of denim jeans, the product must arrive at the customer's doorstep in pristine condition.  Plus, packaging costs must be kept as low as possible. That's where custom mailing bags comes in, helping the brand display their hip persona while staying within budget and keeping customers from paying excess on shipping.
Cost-Effective Mailing Bags to Delivery Quality Every Time
The printed mailing bags created for Standard Deviation are two-toned, featuring the brand's logo in white, against sleek black. Perfectly reiterating the brand's streetwear style, the bags are designed to protect the products inside while delivering nothing less than what the customer is expecting. On top of helping to show off the brand's style and personality, shipping bags help make deliveries as cost-efficient as possible, providing durability that protects each and every item inside.
To learn more about what Plus Packaging can do for you, contact us today. You may also use our logo viewer to begin the process of creating your own custom printed mailing bags!