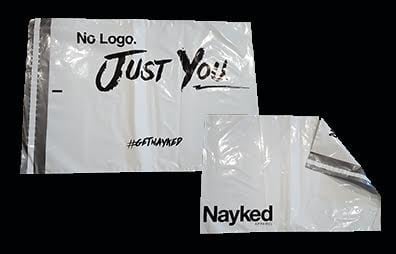 Nayked Apparel is exactly how it sounds—naked. Yes, you read that right. Naked. As in free from logos, excess branding, and tag-lines. This "nayked" approach to style means their customers can show off what really matters—their very own personality. In other words… "No logo. Just you."
With customers across the globe, this Ohio-based business requires a method of shipping that is not only cost-efficient but which also shows off the brand's unique "nayked" personality. A challenge, of course, when it comes to showing off a company that boasts being logo-, graphic-, and brand name-free.  That's where Plus Packaging comes in, offering an affordable and creative solution.
The custom mailing bags created for Nayked Apparel mimic the brand's own personality while keeping the unique style of the receiver in mind. Simple,  cool, and minimal, these flooded white mailing bags with black text allow the items inside to really stand out. In the interest of the company, shipping bags make for an economical method of shipping, helping to eliminate the bulk of boxes, as well as the excess cost. And when you've got a customer base throughout the world, affordable shipping supplies are crucial.
Ship affordably and in style with printed mailing bags from Plus Packaging! Call us at 800-535-9550, to discuss your needs or see a sample of what your own custom mailing bags can look like with our logo viewer.