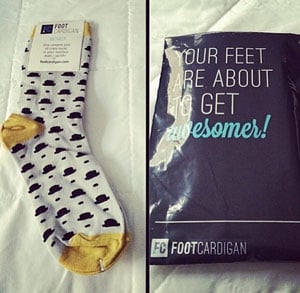 Here at Plus Packaging, our #1 priority is ensuring all of our clients have unique custom Packaging that sets them apart from their competition. Whether it be mailing bags, shipping bags, or special packaging tape – we have something for everyone! Our success story this month highlights our client Foot Cardigan. Foot Cardigan has a monthly sock subscription, where you can order socks monthly, and receive them as a gift – or give them as a gift! This is a great idea for someone who enjoys socks and the element of suprise; as you do not get to choose your socks!
This client was looking for a funky fun way to use custom packaging to ship their socks. They were also looking for custom packaging that could almost be cost effective and tamper proof. We were able to do all of this for them, and they LOVE their new bags!
Contact us today for more information, or check out our logo-viewer!