Alternative Apparel brings style and social responsibility together, proving that going green really can be beautiful. When your business is based on putting fabric first, styling each design with a purpose, and offering a line of garments crafted with more than 70% of sustainable materials and processes, why wouldn't you want your packaging to follow suit?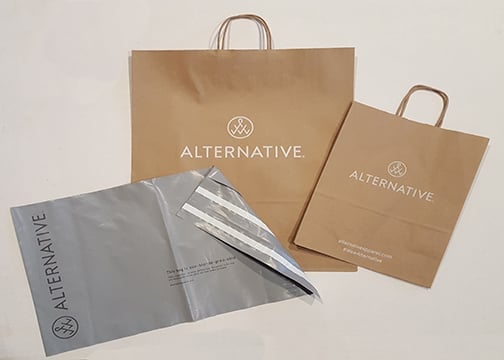 At Plus Packaging, we share many of the same ideals as Alternative Apparel, striving to remain as eco-friendly as possible. When the company came to us for their eco-friendly packaging needs, we knew we would be a great fit.
From the custom printed paper bags that we've designed for in-store use to the custom mailing bags for fulfilling online orders, their supplies are all biodegradable and feature a simplistic design that matches the style and personality of their line of clothing.  The in-store kraft paper bags feature their name and logo in a clean white print, along with a twisted paper handles. Meanwhile, the plastic mailing bags feature a sleek two-tone gray color scheme.
Eco-Friendly Packaging Supplies to Meet Customer Demands
More and more customers are requesting that the companies they love utilize sustainable practices whenever possible. Transform your business – while artfully displaying your personality and style – with custom printed eco-friendly bags from Plus Packaging! We'll be happy to custom design something the meets your needs and preferences.
We offer a variety of eco friendly options including resealable poly mailing bags, reusable tote bags and recycled packaging.
Contact us today to discuss how we can assist your business or check out our logo viewer to see just what we're capable of!